AllSync Scheduler
AllSync Scheduler enables you to automatically run your
profiles
by scheduling them or having them triggered by an event. The settings for the automatic starting of one or more profiles are combined into a
task
.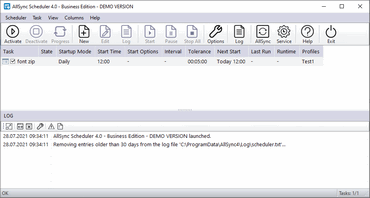 Tasks
A
task
can be automatically started on the basis of the following
startup modes
:
Scheduling/Timed Running
Event Triggering
Important Information
AllSync Scheduler has to be started and activated so that activated tasks can be automatically started. You can have AllSync Scheduler be automatically started and activated when starting Windows by checking this option in the General section of AllSync Scheduler's Options.
The AllSync Service Tool enables you to also install AllSync Scheduler as a service.
Shutdown of the Windows session by the user or the system is aborted when AllSync Scheduler is still in the process of running a task. The current task is aborted and AllSync Scheduler exited.
Task List
The task list contains all the
tasks
available.
Column
Description
Task
Shows the name of the task. The task can be activated or deactivated via the checkbox before its name.
State
Shows the current task state:

Started
Paused
Completed
Completed with Error

Startup Mode
Shows the startup mode.
Start Time
Shows the start time.
Start Options
Shows several settings from the selected startup mode, e.g. Days of the Week, Months, etc.
Interval
Shows the interval, if present.
Tolerance
Shows the tolerance time.
Next Start
Shows the next time at which an activated task will be run.
Last Run
Shows the time at which the task was last run.
Runtime
Shows the runtime of the last task run.
Profiles
Shows the names of all the activated profiles of a task.
The following actions are available via the
context menu
of a task:
Edit Task
Rename Task
Copy Task
Delete Task
Show Task Log
Menu Bar
Scheduler
Activate Scheduler

Activates AllSync Scheduler; tasks are started as scheduled by you.

Log

Shows the Scheduler log.

Options

Shows the AllSync Scheduler options.

Exit

Exit Scheduler
Task
Start Task

Enables the task to be manually started or continued.

Pause Task

Enables a task to be paused (temporarily discontinued).

Stop Task

Enables a task to be stopped/canceled.

Edit Task

Enables to edit the task settings.

Rename Task

Enables a task to be renamed.

Copy Task

Enables a task to be copied.

Delete Task

Enables a task to be deleted.

Show Task Log

Shows the task log.
View
Progress

For switching between the task list and the progress indicator during a copy operation.

Grid Lines

Enables to change the display of the grid lines at the task list.
Columns
Optimize Column Width

Optimize the column width at the task list.

Show Column '...'

Enables to show or hide specific columns at the task list.